Eggborough Methodist Church.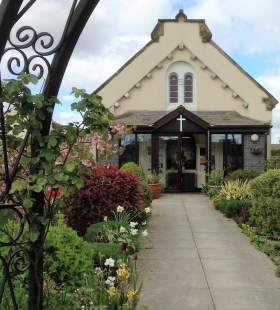 Refurbished in 2015, the church is bright, modern and welcoming. In addition to our worship, the main hall and upstairs room are available for a variety of activities. An ideal venue for meetings and presentations with wi-fi.

Services and Events.
Sunday


Café Church is a relaxed and informal way to explore issues of life and faith. Based around tables with good coffee and cake on offer, these sessions are for anyone and families are particularly welcome. There are quizzes, music and crafts for the kids. Cafe Church is on the second Sunday each month at 4.00pm.



Monday


Movie Monday once a month from September to May. Doors open at 2pm for a 2.30pm start. Details are on the church noticeboard or on the "Eggborough Community News" Facebook page.



Tuesday


Baby Clinic on the third Thursday each month from 9.00am to 11.30am



Wednesday


The Horton Wellbeing Cafe is run by Horton Housing Association from 10:00 -12:00 noon. The cafe offers a safe, friendly and supportive environment for those who are experiencing or are at risk of social isolation, loneliness and mental health issues.
They provide informal learning sessions and activities to help clients increase their confidence, develop skills, build social networks and access volunteering, training and employment opportunities. The cafes are also for those wanting to make new friends and build links in their local community.



The Eggborough Community Café from 10am to 12 noon. A little more informal than Horton with quizzes, crafts, games, dominoes, bowling and cricket to name just some of the activities. Lots of laughs and good fun.



These two activities work on alternate weeks



Yoga session is held at 7.15pm for an hour.



Thursday


Coffee Morning from 10am to around 12 noon every Thursday. There is much laughter and chat. Newcomers are most welcome.



Worship takes place at 9.30am on alternate Thursdays before the coffee morning.



Parish Council Meetings are held on the first Thursday in the month at 7.15pm excluding January and August.



For enquiries about hirings, please contact 07407407424
For enquiries about events, please contact 07957774101
Or contact by email eggmethodist@gmail.com


Location.