Sherburn In Elmet Methodist Church.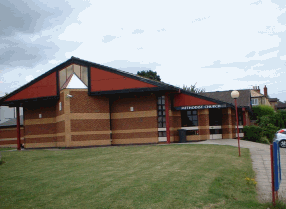 A friendly outgoing church of 80 - 90 members of all ages.
It is at the heart of the community which it serves in many ways.
The building is modern and has good facilities for all kinds of activities.

Weekly Services and Events.
Sunday


10.45am Morning Worship
3pm-5pm Messy Church; Songs, games, crafts and stories, for all of the family; finishing with a traditional tea. (2nd Sunday of month)

Mondays


9.30am-11am (School Terms) Tots and You Group (for parents, carers and children under school age)
6pm-7.30pm 2nd Sherburn Brownies
7.30pm Home Group in members' homes (informal, lively discussion, study, friendship)

Tuesdays 6pm-8.30pm Slimming World
Wednesdays


9.30am-11am Baby-time (a group for parents/carers with babies under 18months - older siblings welcome)
2pm-4pm Women's Fellowship (a part of Women's Network)
4pm-9pm Dancing Classes (all ages)

Thursdays


10am-12 noon Coffee Morning
12noon-1pm Chat In Lunches (Outings arranged during the year)
1.30pm-4pm Craft Group (except last Thursday of month)
7.30pm-10pm Yorkshire Countrywomen (3rd Thursday of month)

Saturday 10am-12 noon Coffee Morning
Location.