Riccall Methodist Church.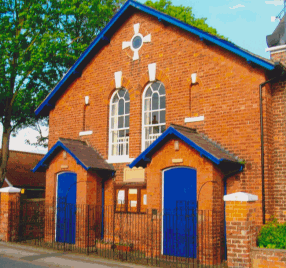 A single-cell building standing in its own footprint, with an 'internal extension' completed in July 1998. This kept two thirds of the area as a multi-purpose room, and gave the premises a kitchen, entrance, toilets and meeting room upstairs.
*** Coronavirus Update: 1 March 2021 ***
We plan to have service on Easter Sunday 4 April at 11am. Following that, the next service should be
on Sunday 2 May at 10.45am
.
Regular Services and Events.
Sunday 10.45 am Morning Worship each week
Monday 7.00 pm Monday Group twice a month
Tuesday 2.30 pm Prayer Fellowship every week
Thursday 10.00 am Coffee Morning, organised by different village groups
On Saturdays, there are occasional Lunches.
Ecumenical
There is a strong link with St.Mary's Parish Church, with monthly united worship taking place alternately in each place of worship. The two churches also work closely together on special occasions such as Riccall Carnival, Harvest Festival, Remembrance Sunday and the Christmas Carol Service.
Community Use
Its central location provides a convenient meeting place for several village organisations: Riccall Art Club (weekly), Riccall Ladies Guild (monthly), and the Neighbourhood Watch and the Lands Charity when they meet.
Location.